NHL season is almost upon us! So that means EA Sports NHL. This year's addition of the game showcases cover athlete PK Subban, and I'm still trying to figure out why. Yeah he's a good player, but I can name 10 other defensemen more deserving of the cover.
Outside of the terrible cover, comes an almost terrible game. The game showcases the same exact game modes as previous years, aside from a new mode called Ones, where you play a 1v1v1 game against online opponents. This game mode was not thought out, because if it was they'd of seen the dumpster fire that is Ones hockey. This game mode will forever be terrible unless they figure out a way to make it so you can play 1v1, or they could also fix the ridiculous bullshit that is character balance because if an opponent makes his character as tall as a tree then he's going to win 9 times out of 10 as long as he's somewhat decent at the game. The bigger characters can hit you nonstop and put you on the ice where, even though it's been fixed since the beta, you sit there for a ridiculous 2-3 seconds. That's plenty of time to deke, the same way as previous years, the terrible AI controlled goalie.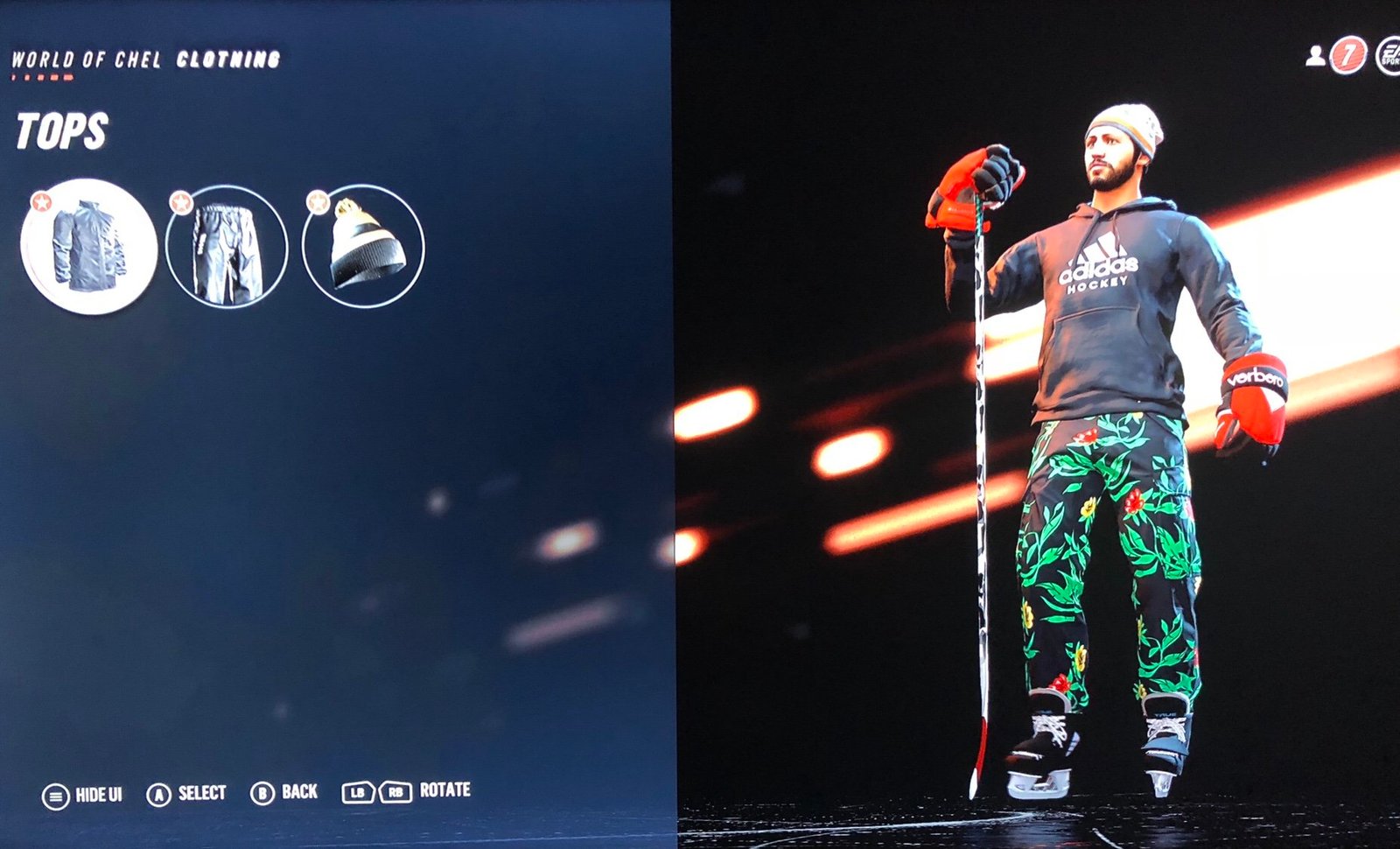 Character customization is actually pretty impressive in World of Chel. You're able to use your character throughout Ones, EASHL, ProAm, and Threes. You have three different perks that you can use with your character, but you have to level up to obtain them, so the players that slave away at the game will have an overpowering advantage as you progress into the higher tiers when playing Ones.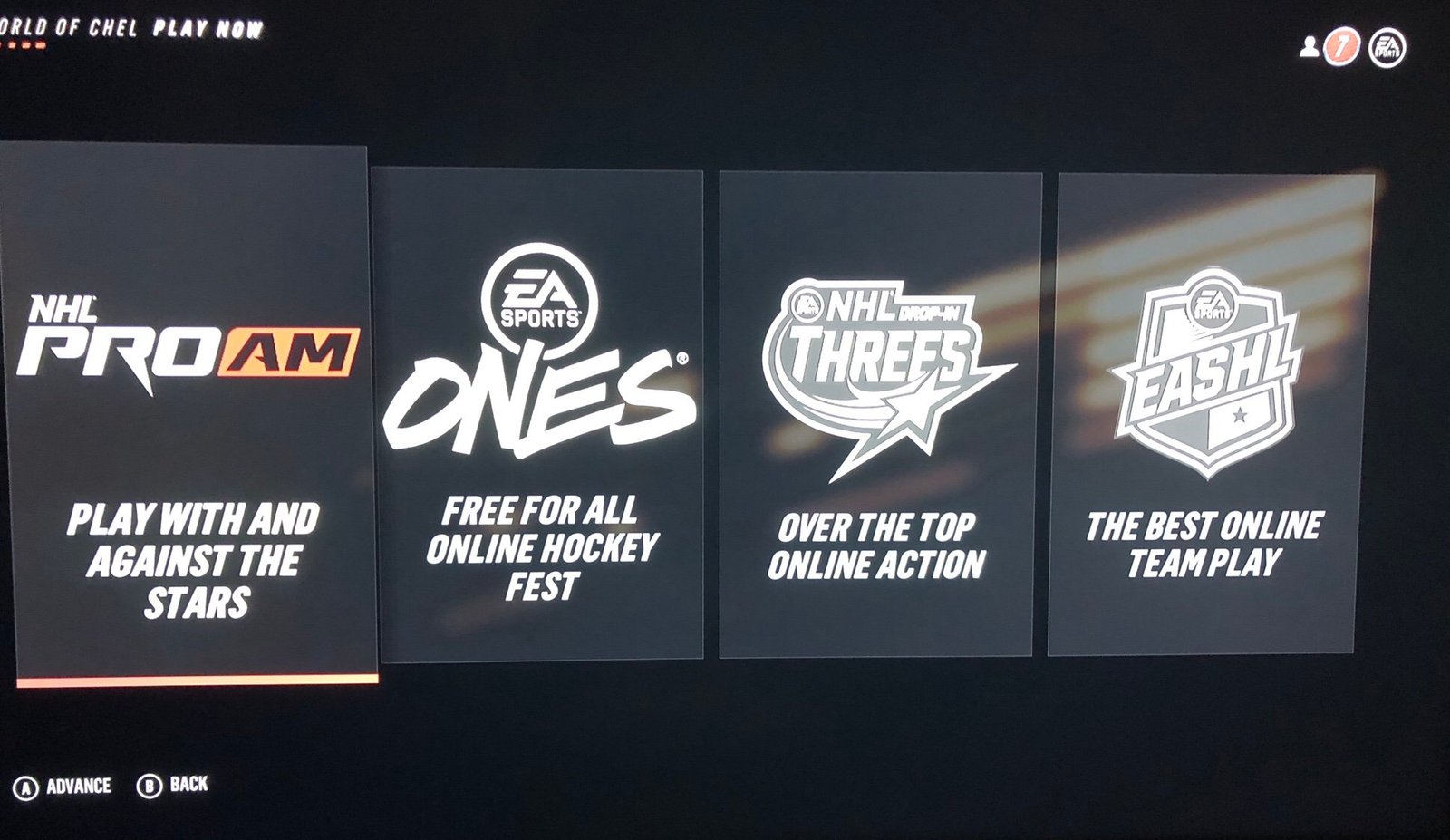 Hockey Ultimate Team is still your money hungry game mode, where you pay to win, and the card packs are overpriced to the extent where you're probably not investing unless you're a streamer or your mom owes you some money for the grass you cut last weekend. I loved how EA Sports NHL's Twitter page released this bullshit blog about cheating and how if you're caught making silly trades to help benefit another player then you'll be punished. The irony of this is that EA Sports NHL gives their "Game Changers" and streamers free HUT packs. These players think they're something special as they coast up and down the ice with their 90+ overall team right out of the gate.
The skating and hitting mechanics have changed for the better this year, but everything else has stayed the same. The reasoning for this is pretty simple – They have a development team that focuses their time on creating cards on HUT and less on fixing the issues that the fans of the game make known. I've been a fan of this game for years, but the last few years I've focused more of my attention on other sports games, because this series is at the bottom of the figurative totem pole when it comes to sports games. EA Sports NHL knows they have no competition so they're able to throw out the same washed up game each year and any hockey fan, who also plays video games, will purchase it. The day another company, like 2K Sports, makes a hockey game is the day that EA Sports fires everyone on their EA Sports NHL payroll and finally showcases a game worth playing. Until then, you're stuck playing the same game every year with slightly different tweaks to the mechanics of the game, a few more player likenesses, and some new card packs in HUT.
I purchased NHL last year, and requested to have my game refunded two days later and Microsoft accepted. The reason for that was I was finally sick and tired of seeing the SAME exact game as previous years. This year you do have some differences and there are enough to purchase the game, but not enough to thoroughly enjoy it. The NHL series needs the Frostbite engine to save it next year, an overhaul of the in game mechanics, and game modes we actually ask for. If things don't change, this sports franchise will lose more and more fans each year.